We've been learning about the Food Groups with our children and this week it's all about PROTEIN with the Meat and Bean Group!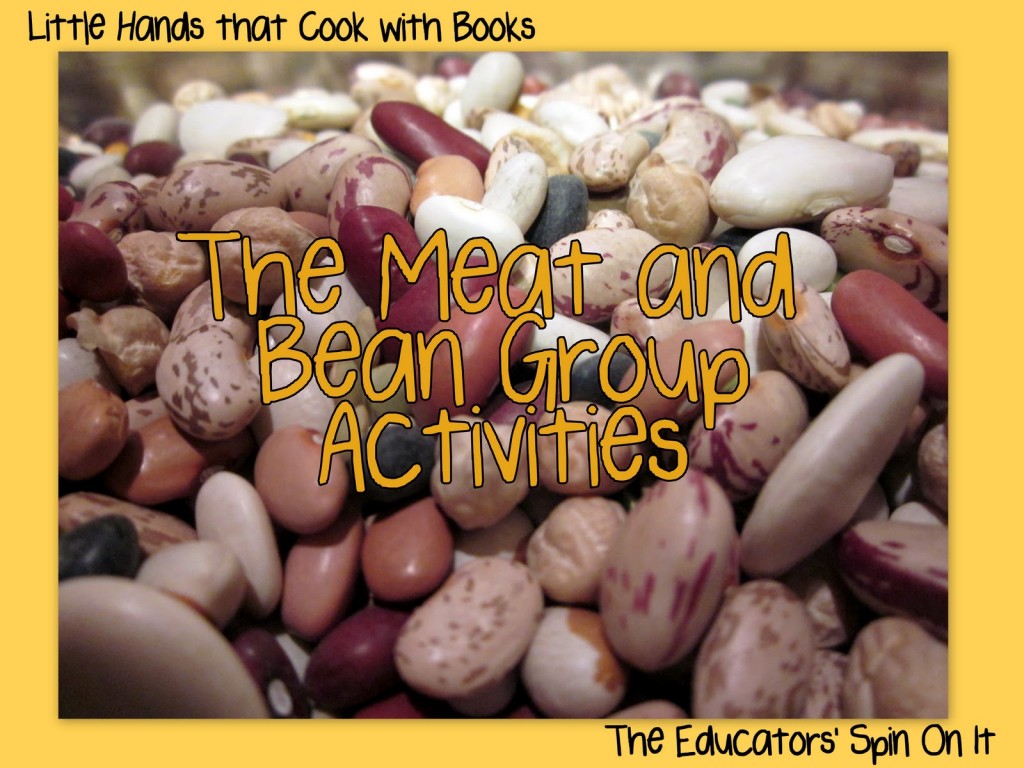 My husband's family is from India and I've learned quite a bit about how an Indian family eats a variety of lentils, kidney beans, garbanzo beans.  I was actually amazed at how little I knew about cooking with beans before I got married.  Now my children's favorite things to eat are beans and lentils!  This inspiration reminded me of a simple recipe to create with the kids.  The recipe we are making is one that was one of my favorites as a kid and I think your little one will enjoy making it too.  It's 15 bean Soup!  It's simple and delicious and I know your kids will enjoy making it.  The night before the lesson we put our beans in water to soak overnight,
Mr. Putter & Tabby Spill the Beans by Cynthia Rylant

We started the lesson by reading this book Mr. Putter and Tabby Spill the Beans by Cynthia Rylant. We love the Mr. Putter and Tabby series. The story is about Mr. Putter who can't imagine why anyone would need to know one hundred ways to cook beans. His neighbor Mrs. Teaberry recommends a cooking class for something new and fun. Mr. Putter isn't so sure but Mrs. Teaberry has a way of talking him into things. He find out that there are one hundred ways to cook beans which is more exciting than Mr. Putter ever expected.
Once we read the story we opened an extra bag of 15 bean soup and I let my daughter sit and sort the beans.  It's really amazing to see all the different types that there are.  She sorted then, made patterns with them and even created designs with them.  Then with the other bag we soaked the beans overnight and I started boiling them on the stove top a few hours before we were ready to cook our soup together.
Once the beans were cooked we gathered our ingredients for…
15 Bean Soup Ingredients
2 quarts water
I lb bag of assorted beans or just added your favorite beans
1 celery
small onion
1 carrot
1 clove garlic
2 Tb butter
1 lb cooked chicken breast or ham or sausage
salt and pepper to taste
Directions
*Presoak bean and rinse before cooking
*Cook meat before cooking soup.
We washed the vegetables and then I had my child use a butter knife to slice the carrots, celery and onions and cooked meat into tiny pieces.  Once she cut everything up she dumped them into a pan for an adult to saute the vegetables with the butter and then added to beans to cook for at least 30 minutes.
*You can use the premade bags they sell at the store for 15 Bean Soup, they even come with a seasoning packet.
~When cooking with children, please use caution and adult supervision at all times~
While our soup was cooking my daughter had some Bean Activities to do.
Pour and Sort Beans
Using a bowl and measuring cups practicing pouring with beans over large plastic container.
Bean Mosaic
Create and glue a mosaic using the beans
Growing Beans
Plant Lima bean seeds in a cup to watch grow of the next few weeks
Meat and Bean Group Activities
Protein Sorting Game

Sort words and pictures of Pig, Cow, Chicken, Fish, Turkey, Egg, Nuts, Beans
Word Search
Printable Worksheet from Nourish Interactive… great website for Kids Nutrition
I'll give you fair warning that it can become a very interesting lesson when you first teach your children about the meat group, and please use at your own discretion because I don't want any little ones turned off from meat just because they found out the truth from me.  Year after year teaching Nutrition in Kindergarten there would always be a few who finally realized that ham is really from a pig and that nuggets are really from a real chicken.  That being said it's such an important food group to understand and insure that everyone gets enough of.
Science Moment
According to WebMD, Every cell in the body is made of protein, which makes this major nutrient essential for healthy growth and development. Protein is found in animal products such as dairy, eggs, seafood, and meats. In somewhat lesser amounts, it is also in beans, nuts, vegetables, and grains.
Books About the Meat and Bean Group
I  found a few more books about the Meat and Beans Group that we enjoyed
Black Beans and Lamb, Poached Eggs and Ham: What Is in the Meat and Beans Group? by Brian Cleary.

 This author, Brian Cleary had all sorts of books on Nutrition that I can't wait to check out!
Meat and Fish (All about Good Foods We Eat) by D. H. Dilkes

Beans, Nuts, and Oils (All about Good Foods We Eat) by D. H. Dilkes

Thinking Outside the Bean: All You Ever Wanted to Know About Mexican Jumping Beans and More by Debbie Keiser, Brenda McGee, Mary Hennenfent Ed.D., Chuck Nusinov

Here's a quick reminder of the amount of food from each group our children need.
Food Groups for Kids
Kids need a balanced diet, try to include the following amounts from each food group every day:
Grains: 3 to 6 ounces, depending on age- 1 ounce is equal to 1 slice of bread, ½ cup of rice or pasta
Tip: Choose whole grain or whole wheat instead of white bread.
Vegetables: 1-2 ½ cups
Tip: Encourage kids to eat a variety of vegetables.
Fruit: 1 to1 ½ cups – example: 1 cup =1 small apple, 1 small banana, ½ cup of dried fruit
Tip: Choose different colors of fruits. Great for snacking! Choose 100% fruit juice, and limit to only 1 cup a day.
Meat: 5 ounces – example: one small chicken breast would be around 3 ounces, 1 tablespoon of peanut butter, 1 egg, and ½ cup of beans = 1 ounce.
Tip: Choose lean meats such as chicken, turkey, fish or lean cuts of beef.
Dairy: 2 -3 cups
Tip: Choose low-fat or fat-free milk, low-fat yogurt and cheeses.
Check back for more Meat and Bean Group Lessons and Recipes!  We've already created Spider Meatballs and included some veggies into them.  Meatloaf and Indian Chicken Kebabs are on the list to be created soon!
We'd love to hear your Children's favorite Meat Recipes or see Pictures of your children doing Little Hands That Cook with Books lessons!  Just email us at [email protected].
Check out ALL the
Balanced Eating Fun Series with Little Hands that Cook with Books!