Has a paint your own picture studio opened in your area?  It sure seems like an upcoming ladies night out option and we just had to try it out!  Kim and I are very family centered and do not get out often.  BUT, there are many benefits for spending time with your friends.  Being able to actually have a conversation is one of them!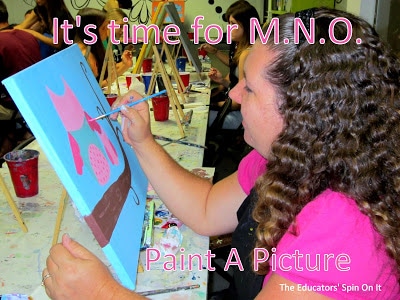 For around $30 (depending on where you live) you can attend a class and leave with a finished painting.  The studio near us encourages you to B.Y.O.B. and snacks.  (F.Y.I. a piece chocolate cake was very helpful with the creative process).  They provide an instructor that leads the class in a painting with step by step, easy to follow directions.  You chose the colors, how big, how many, pretty much all the details.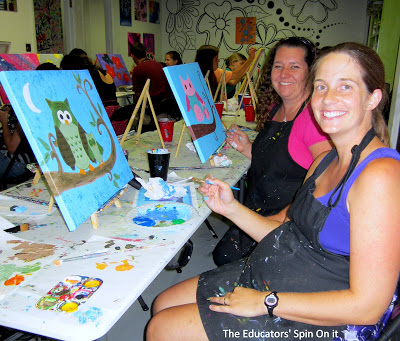 Kim and I couldn't agree on which painting we liked and after a few months of browsing their selections, we decided to attend and paint something we were both interested in – OWLS!  We researched some owl pictures and thought about the colors that would match our kids rooms BEFORE attending the class.
With #3 on the way, I thought this would be a great way to make something for baby's nursery.  I talked last month about
how to bond with baby
and
making something
is one way to get excited for and connect with your little one. Here is a picture of my painting for baby #3 who just arrived! (Have you figured out yet that I am on an
owl kick
?)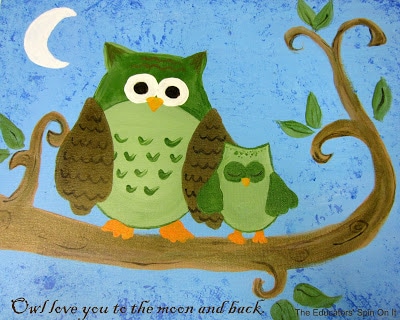 What we found out was that just under 3 hours was just the right amount of time to get the paintings done.  In fact, we made use of the blow drier to speed up drying time so that we could keep painting without smearing colors.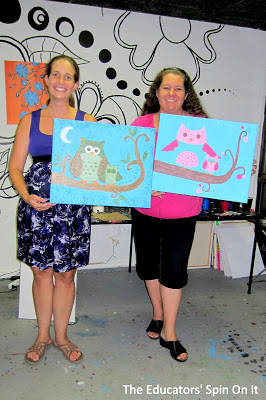 Are you in need of a M.N.O.???    Consider a Paint Your Own studio!
Bonuses
They have all the supplies there and available for you to use.
You get to leave with a painting.
You have 2-3 hours of uninterrupted grown up time.
You have a chance to be creative.
They do the clean up!!!!
Cons
You don't have as much time as you thought to talk because you are concentrating so hard on your picture.
You are limited by time.
You most likely could buy the supplies and paint a canvas for less than the cost of the class.
In the end, I am so glad that we tried it!  We had a blast and came home with 2 cute paintings for our kiddos.
Save