Explore a variety of owl themed ideas. One-of-a-kind owl crafts and activities that are fun and easy to do with your child.
Owl Crafts & Activities
We love Owls At The Educators' Spin On It.  Let's be honest whoooo doesn't?
Step into any store right now and you can find tons of Owls for sale. As we're approaching the holiday season you might have a special little owl you'd like to share a owl themed gift with?
Whooooo's special to you?
Whoooooo are you thankful for?
We've been sharing some of our favorite Owl Ideas and Activities all week Long!
We invite you to check out our Owl Week fun at The Educators' Spin On It.
Create a handprint card and give to someone special
Work on fine motor skills while you create Owl Rubbings

Owl Science Afterschool with Owl Pellets
Discover facts about real Owl with dissecting an Owl Pellets as part of after school science.
Love Books Activities
Whooo loves books and activities.  We have over 100 book related activities just for you and your Little Owl.
Using Fall Leaves you can create your own Owl and have a little fun playing together.
Check out how to make an Owl Shaped Pizza in an Owl Themed cooking lesson.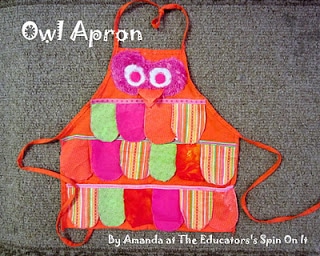 Owl Apron
Every chef needs an Owl Apron! Check out how we reused items to create.
Here's a simple tutorial on how to create an Owl Headband for your Little owls!
Have your child create their own Owl Tshirt, super easy.
Owl Costume and Tips for School Play
We're sharing tips of how to prepare for a School Play and fun with an Owl Costume.
Owl Books
We've collected some of our favorite Owl Books and Owl Themed Activities.
Little Hoot Activities for Virtual Book Club for Kids
Check out Amy Krouse Rosenthal's Little Hoot inspired activities.
Owl Themed Pregnancy Belly Painting with Siblings
Create a special bonding activity with your baby's siblings as they paint mommy's tummy.
Papas and Siblings can help create this Owl Themed Baby Quilt
Owl Painting for Nursery or Kids room
Every Mom needs a little Mom's Night Out… see whoooo inspired our owl paintings!