When children have begun to master the letter names and sounds, it is time to start building simple three letter words. This pool noodle build a word tower activity is a great way to combine literacy with a little engineering. It is perfect for the child who enjoys learning through movement and play.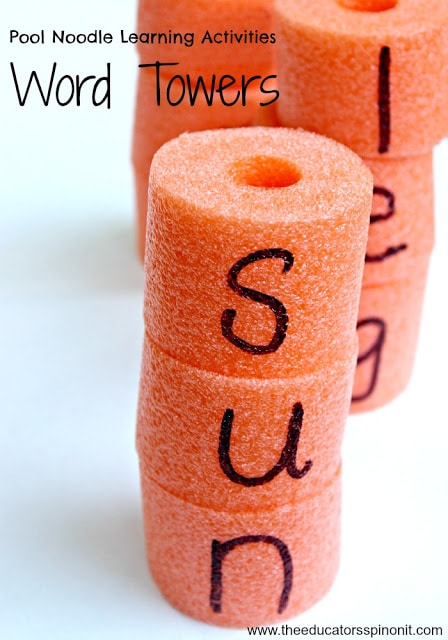 Pool Noodle Build a Word Towers for Learning to Read
Learning Objective: Read simple 3 letter words.
Materials Needed

How to Play Pool Noodle Word Towers.
1. Say a simple three letter word.
Here are some sample 3 letter words that follow the classic sound patterns to get you started.
peg, leg,
dig, rig, pig,
pan, man, fan, ran,
run, sun, fun, bun
hop, top, pop, bop
bug, rug, dug, hug
bit, fit, kit,
get, pet, set, met
cat, fat, rat, mat
2. Build the word.
3. Knock the word over.
4. Repeat 1-3.
Challenge: See how many towers you can build using the 26 letters in the alphabet. Each letter can be used only once. (hint – it is more than 2 and less than 6 word towers!)