Our children get report cards.  Employees get reviews.  As parents you may not get feedback from others on your parenting.  We would like to take some time here at
The Educators' Spin On It
to celebrate the moments you share with your children that deserve recognition. We would like to give you positive feedback on your parenting experiences and share your story with others for inspiration!
From our family and friends to our neighbors and the people we see in our community there are so many fantastic role models and good examples of what parenting can be.  Often the media reflects upon the worst moments of parents. We would like to take a moment of our time to celebrate the little things that make the difference in their lives of our children.  We want to hear about, promote, and celebrate all of you parents out there who are parenting with purpose!
Look around you at the world.  Who is inspiring you to be a better parent?  Is it your own dad who made a special trip to help you fix a leaky bathroom faucet?  Is it your neighbor who is parenting two young children, one who just had a shunt put in his brain?  Is it the stranger walking into a grocery store who stops for a moment and kisses his child, snuggled in a carrier close to his chest?
If you could take a snapshot of a great parenting with purpose moment, what would it look like for you? You don't have to actually catch this moment on camera, but we sure would love to hear about it!  Please send us your story of the grandparent, neighbor, friend, family, spouse, or community member that you saw parenting with purpose at the
[email protected]
.  If you have a picture that represents that moment and don't mind sharing it with us, send us that too! (but not necessary at all!)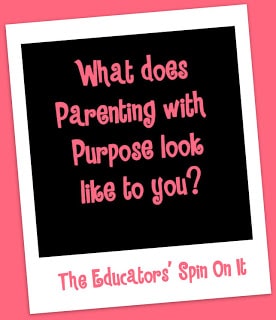 We would love to feature you in a future blog post and inspire the word to be better parents! E-mailing us your snapshot of parenting with purpose gives us permission to share your story with others with hopes that it may inspire =)  If you do not want us to share your awesome parenting moment with others, but want to tell us, just let us know in your e-mail and we will read it, but not share it!
Remember, please don't leave that awesome parenting moment in our comments below,
e-mail
them to us at ! Of course, we always love any other comments =) After all, we write for you!
Ready to Start Looking at our Snapshots?
Save