Do you have a little reader at your home that you just can't seem to keep enough books around for? Over the years we've had a few readers like this in our homes and we thought it might be fun to sit and chat about ways we keep them challenged. Plus a few tips for what to do at school.

Hangout with Amanda and Kim on tonight, March 12 at 9:30. Here's your chance to sit in on one of our every continuing conversations about what we're doing with our 6 year olds with reading.

RSVP to the Event Here on Google + or watch the video below


The best part is you can show up in your jammies, we'll never know. Grab a pen and paper, you might want to write a few notes and grab a glass of something yummy to drink while you listen and watch. Feel free to ask questions in the comment section and we'll do our best to answer them.
Here's the link up of a few of the Tips we're disccuing for Challenging Advanced Readers
Chapter Books

Visit the Library before or after school

Become friends with your librarian

Ways to Read for information

Reader's Response Journal

Book Baskets & Books everywhere….car, restaurant, playroom, kitchen table, bedroom and bookshelves.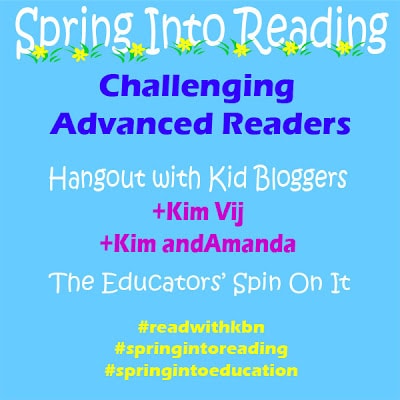 Resources for your Advanced Readers
#springintoreading # readwithkbn
What works best for challenging your Advanced Reader?