It feels like my kids are always snacking! I've started leaving a few writing prompts out for them during their snack time. They have naturally transitioned from eating their fruits and vegetables to writing about them. It's been a win-win getting the focus on healthy eating and working on phonics!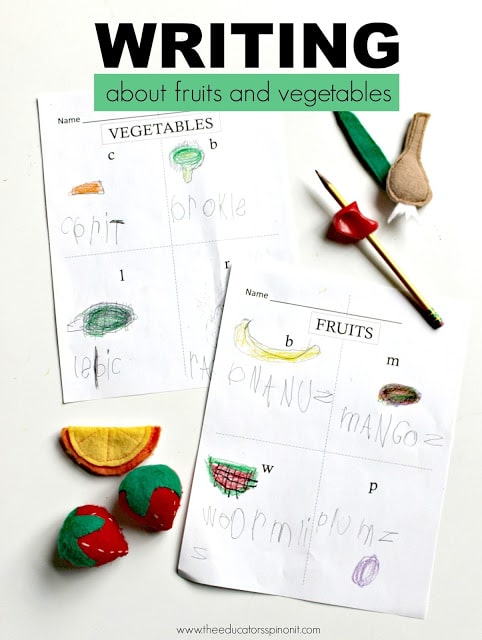 Geared for Early Childhood, Ages 3-6

Writing About Fruits and Vegetables
Learning Objective
The child will formulate a vegetable or fruit based on the provided beginning letter and write the word based on the sounds heard; phonics.
NOTE: Every child is different. For this writing lesson, you may also work on
plural endings -s and -es.
correct spelling using a dictionary
writing simple sentences with sight words
Materials Needed
Pencil
Crayons
Books about Fruits and Vegetables (optional)
Directions
1. Print the Fruits and Vegetable Printables
2. Set a printable and a pencil at each child's snack area.
3. If you are feeling fancy, serve a variety of fruits and vegetables. Or, just talk about them.
4. Point to the letters in each box. Say something such as:
"This is the letter C. The letter C makes the /c/ sound like in the word cookies. Cookies are food, but we need to think of a vegetable that begins with the sound /c/."
5. If your child says cucumber or carrots, have them sound it out and write it down. If they are having trouble, say the word S – l – o- w – l – y with them. Give them time to think before suggesting the letter or sound. It's OK if they don't spell it like the dictionary.
This is often refered to as inventive spelling. Meaning, the child invents how a word is spelled based on how it sounds. Most children will progress in stages of writing.
Scribbles to Letter like Shapes to Letters to Letters for sounds to Dictionary spelling.
This progression will occur over a long period of time ranging from 6 months to several years.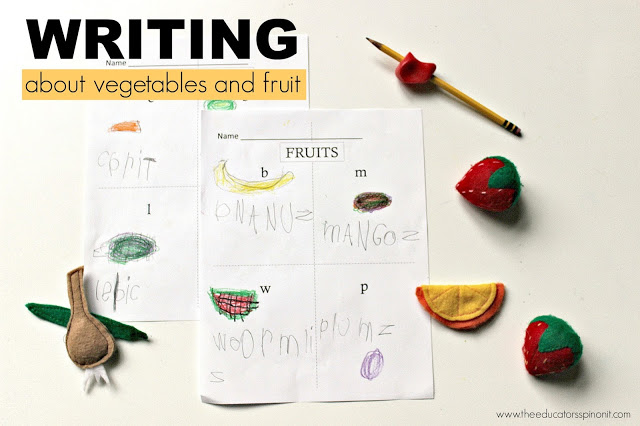 NOTE: My middle child is a reluctant writer. We are working on just getting ideas on the paper and praising any and all efforts. As you can tell by the pictures, he is started to make the connections between the oral and written sounds!!!!
Seasonal Writing Click here for instructions
14 Ways to Build Language Skills While Making a Pot of Soup by Growing Book by Book
Fruits and Vegetables Beginning Sounds Sort by Learning 2 Walk
Fruits and Vegetables Beginning Sound Clip Cards by Mom Inspired Life
Describing Fruits and Vegetables-Learning About Adjectives by Capri + 3
Sorting Fruit and Vegetables by Color by Powerful Mothering
Potato Printing Tessellation by Rainy Day Mum
Fruit and Vegetable Hunt Farm Sensory Bin by Life Over C's
Writing about Fruits and Vegetables by The Educators' Spin On It
Save