Create a special Valentine's Day breakfast with these easy heart shaped pancakes. They are colorful, fun and easy to make with your child.
Here's how…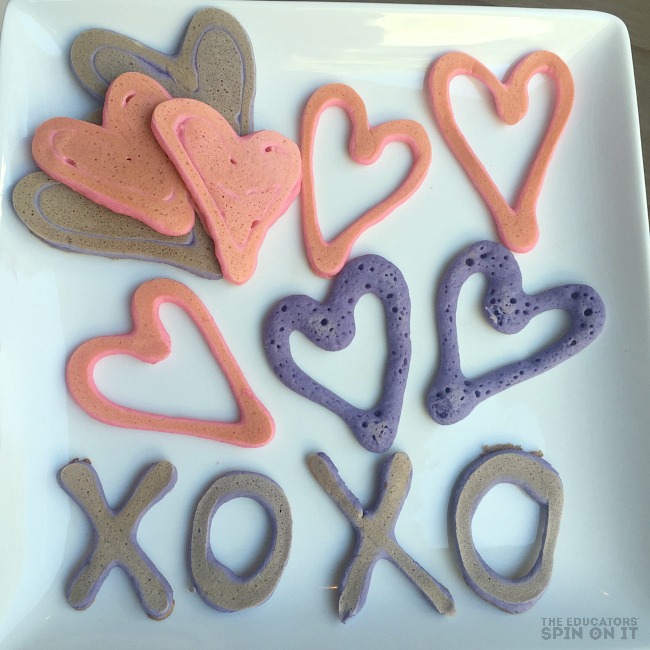 This post contains amazon affiliate links.
Valentine's Day is just around the corner and here's a special way to show your love with heart shaped pancakes. This week is LOVE week at the weekly Virtual Book Club for Kids. I thought it would be such fun to plan a special Valentine's Day Breakfast to go along with our featured book The Day It Rained Hearts by Felicia Bond.
Plus a fun addition to our Pancake Activities for Preschool Unit
The Day It Rained Hearts by Felicia Bond
In the story, one day it rains hearts, and the main character Cornelia Augusta catches them. She realizes that the hearts are perfect for making valentines. Each heart is special in its own way, and she knows exactly who to send them to: her animal friends. This book is an adorable way to spark creativity and thoughtfulness towards those you love!
It's what inspired our Valentine Themed Pancakes for my loved ones. You're going to love making these heart shaped pancakes with your child
Easy Heart Shaped Pancakes Recipe
Ingredients
Materials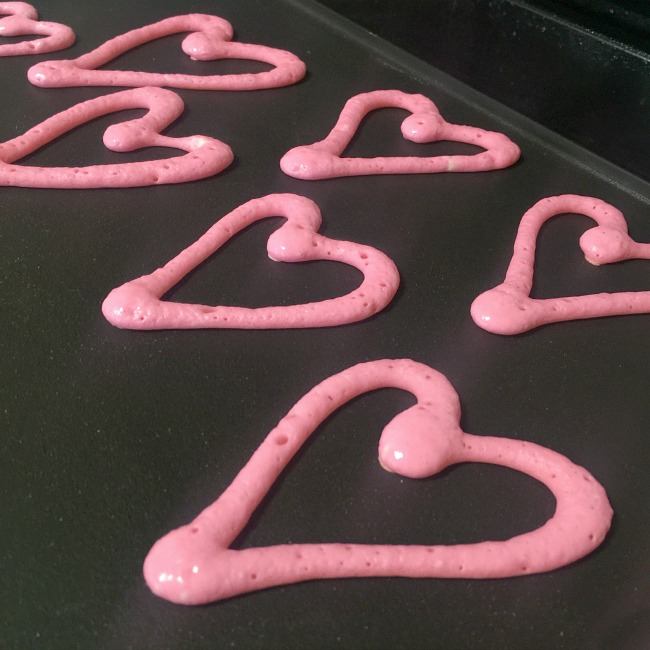 Directions for Easy Heart Shaped Pancakes
Read the story The Day It Rained Hearts and then get ready for some heart shaped fun!
1. Preheat the Electric Griddle or Pan. I prefer using the griddle for making pancakes and especially when I cooking with my kids. That was we can move it around to make it convenient for working on a kitchen step stool.
2. Mix together ingredients to form pancake batter with your child. Have your child use the measuring cups and spoons to be a part of kitchen learning with you.
3. Once the pancake batter is mixed divide it into a smaller bowl if you want to add Food Color. We choose Purple and Pink for our colors. Add a few drop, it doesn't take much and then gentle mix in.
4. Now pour the colored pancake mix into the Plastic Squeeze Condiment Bottles.
5. Use the color pancake batter in the bottle to hand form a heart on the heated up electric griddle. Now make a bunch more. These cook far quicker than normal pancakes to be prepared to flip quickly.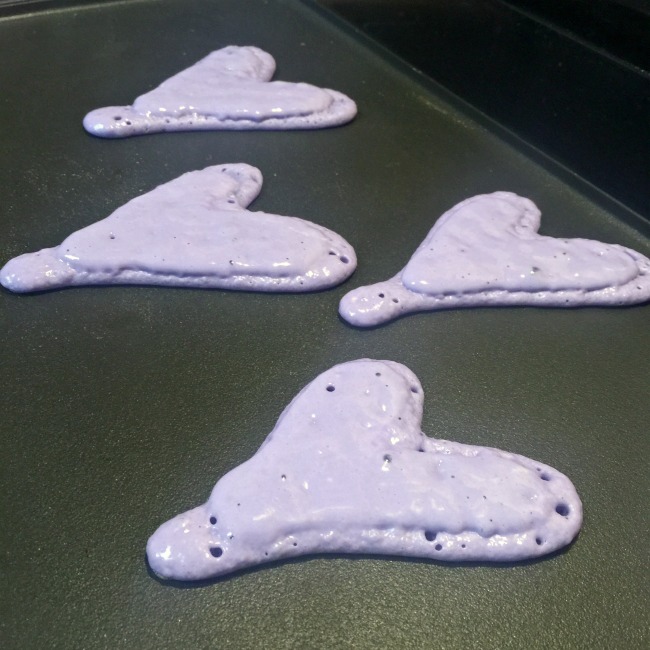 6. So make a solid heart shape just draw the shape of a heart and then go back and fill it in with more batter.
7. Get creative a make your own XOXO or a special Valentine message.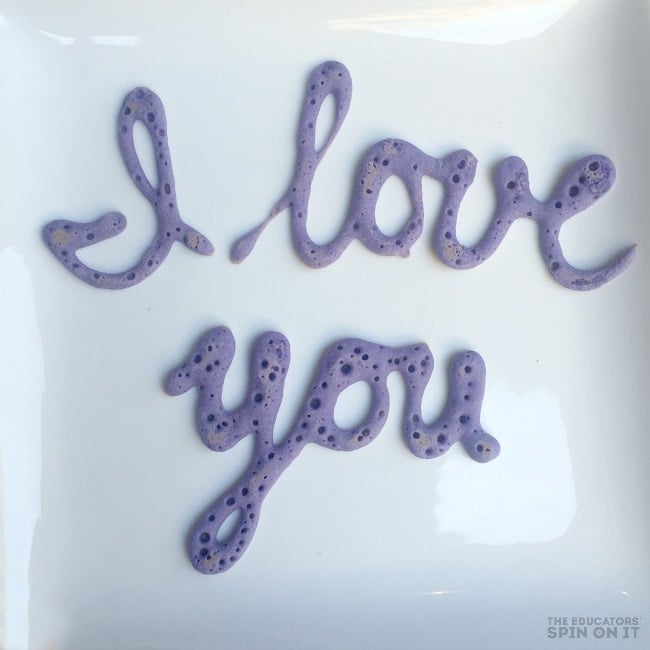 Additional Options for Heart Shaped Pancakes or even heart shaped Eggs for your Valentine's Day Breakfast!
If you like this recipe idea be sure to check out our post about Valentine's Day Snack for Kids to Make and Eat. It includes ideas like Heart Shaped Breadsticks Recipe. You might want to add a few Foam Hearts & Fishing line or ribbon and hang around the room or from the light above your kitchen table. We used these plastic heart containers and then did a Valentine's Day Scavenger Hunt
Here's a more few Valentine book ideas to go along with these heart shaped pancakes.
Books about Love for Preschoolers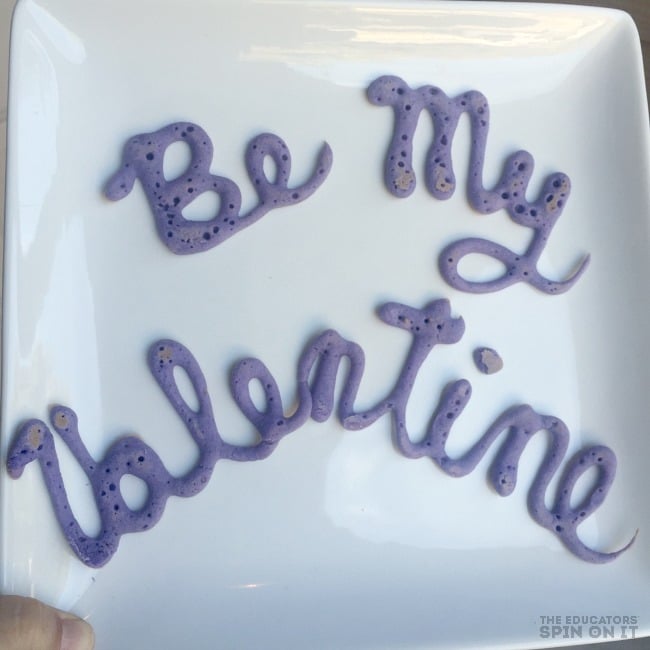 Here's a list of my favorite Valentine's Day Books for Kids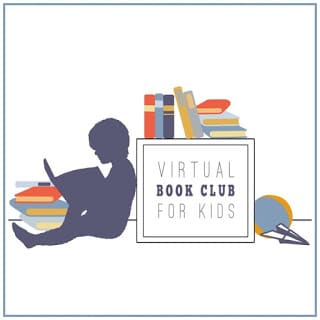 We are so excited about all of these ideas for even more love themed fun!
Love Themed Activities for Preschoolers
Check out the other Heart activities below
Easy Heart Shaped Pancakes -The Educators' Spin On It (That's here)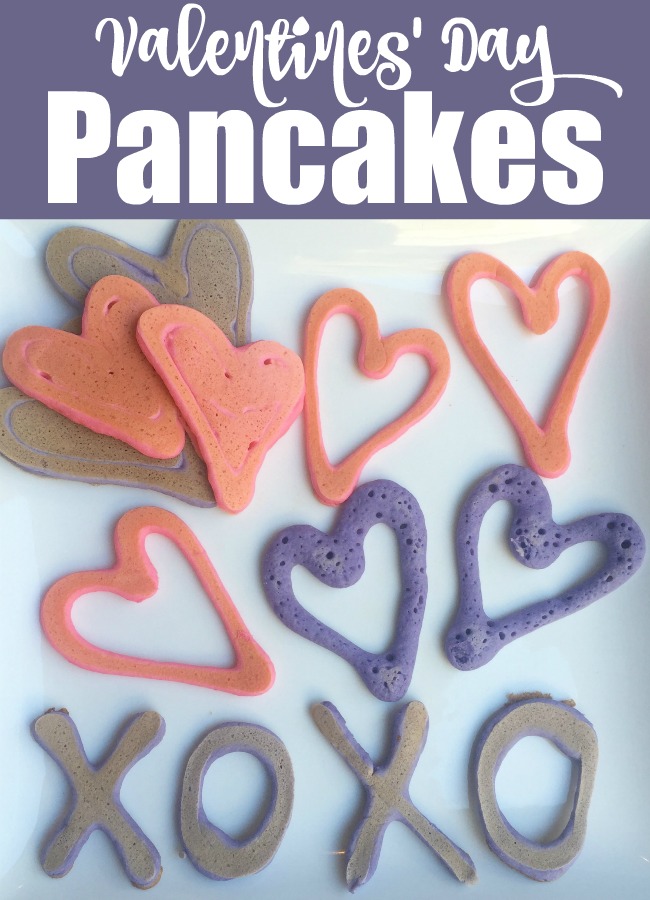 Here's some additional ideas for Valentine's Day with Kids…