Happy Valentine's Day!   Making food for someone else is a way of expressing your love, especially when it's shaped like a heart!  I know your kids will love a few of these recipes I've found for you in case you're still looking for inspiration!  We've already created Heart Bread Sticks and Heart Pizzas  and even Strawberry Heart Parfait here at The Educators' Spin On it.
Sometimes it's just the serving dish or the shape of food that makes it even more fun and meaningful for child and let's face it adults too.  So find something red or heart shaped and it's now a Valentine Meal!
Valentines Muffin Tin Meal from Rockabye Butterfly
Just in case you're looking for more Valentine's Themed Recipes, here are a few fun things I found that you might enjoy making with your child for Valentine's Day!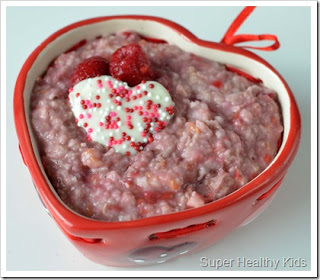 My newest favorite site!!!
Heart Shaped Egg from Annathered
Heart Shaped Cinnamon Rolls from Pinch My Salt
Heart French Toast from Parenting.com
Heart Fruit Kababs from Parents.com
If you're still trying to find something special, we have a 
Cooking with Kids Board
 on Pinterest too with more ideas.  Hope you enjoy making something special with your child today for Valentine's Day.