Playing in a tent can be a fun and educational experience for kids. It can help them develop their creativity, problem-solving skills, teamwork, self-reliance, and nature appreciation.
There's something magical about the power of an indoor tent for a child.
Think back to your childhood… some of your best memories are from the tent you built with your sibling or friend. I know you remember that feeling.
Let's make the best of this summer and build a magical tent for our kids to explore!
Creating an opportunity for a true "sense of self" as they create their own fortress.
Why kids love building forts — and why experts say they might need them more than ever.
Disclosure: This post contains Amazon affiliate links. As an Amazon Associate, I earn from qualifying purchases.
10+ Indoor Tent Activities to Keep the Kid Entertained
Are you looking for a fun indoor activity for the kids? Encourage your child to build an indoor tent!
The next question you may be asking is what are they going to be doing in the tent?
The answer is truly unlimited… there are so many fun things that can play within an indoor tent.
Here are just a few activity ideas to get you started with your indoor tent.
Pretend play
Read with a flashlight
Are you ready to build an indoor tent? Let's grab the supplies!
Supplies for your Indoor Tent
Click here for more Sibling Activities for Kids
5 Tips for Building an Indoor Tent
How do you make a tent indoors? It's super easy to make a blanket fort and can work for the space you have available.
1. Pick a spot that the tent can stay up for a while. As the days go on it will begin to take on a life of its own, as will your child's imagination.
2. Chairs from the dining room table work perfectly for hanging sheets over or folding chairs. Or you can drape sheets over the edges of an unused dining table or even a folding party table that's sitting in the garage.

As a kid, my best friend and I used our closet doors and two chairs to build a very tall tent.

A real tent can be super fun too if you have space.
3. Make sure it's stable. Nothing is more frustrating than putting up a tent, only to have it fall down when your sibling breathes on it. (just kidding, but not really, might be speaking from my own childhood experiences)
4. Add a special light to the tent space with battery LED lights or a lamp that's safe with small children. We love our little reading lights from IKEA in our indoor tent.
5. Add a cozy rug or soft blanket below on the bottom of your tent to make it extra special. An air mattress or bean bag chair would be pretty awesome too.

This helps to define the space of the kid too so they don't take over the whole room.
Building a Tent is a fun and rewarding activity that can help kids develop a variety of skills.
What Do Kids Learn While Building a Tent
Kids learn a lot while building a tent. Here are a few things:
Problem-solving skills: Kids have to figure out how to put the pieces together to create a sturdy structure.
Fine motor skills: They use their hands and fingers to manipulate the materials.
Spatial awareness: They need to think about how the pieces fit together and how the fort will look from different angles.
Creativity: They can use their imagination to come up with different designs for their forts.
Teamwork: If they're building with friends, they have to work together to get the job done.
Persistence: It takes time and effort to build a fort, so kids learn how to persevere even when things get tough.
Pride: They feel a sense of accomplishment when they finish building their fort.
The Magical Power of an Indoor Tent
Here are some of the most adorable indoor tents that you can get for your child to explore building their own ten too. They range in size and theme with so many options.
Here are our top picks of indoor play tents for kids on Amazon.
Little Dove Play Tent with Mat, Star Light
Razee Large Playhouse Tent for Girl
Kids Tent Indoor & Outdoor Kids Play Tent
Small Foot Wooden Toys Elephant and Crocodile
South Shore Sweedi Organic Cotton and Pine Play Tent
Wonder Space Children Play House Tent
Teepee Tent for Kids Foldable Children Play Tent
DDASUMI Warm Tent for Double Bed without Floor (Pink)
Love Tree Kids Play Tent Castle Large Teepee Tent for Kids
Princess Tent Girls Large Playhouse Kids Castle Play Tent with Star Lights
Kids Teepee Tent Large Children Playhouse Oxford Fabric
Teepee Tent – Deluxe Set with Smores-Campfire, Fairy Lights
JOYIN Rocket Ship Play Tent Pop up
Avrsol Kids Play Tent with Mat – Large Playhouse with Ball String Lights
Kids Play Tent, Razee Large Playhouse Tent Indoor
Pacific Play Tents New Club House Play Tent
Sisticker Teepee Tent for Kids with Floor Mat
85″ H Outdoor 5-Sided Large Sheer Lace Tipi Tent
Hanging Clip Clamps (Pack of 12)
12 Pack Fairy Lights Battery Operated (7ft)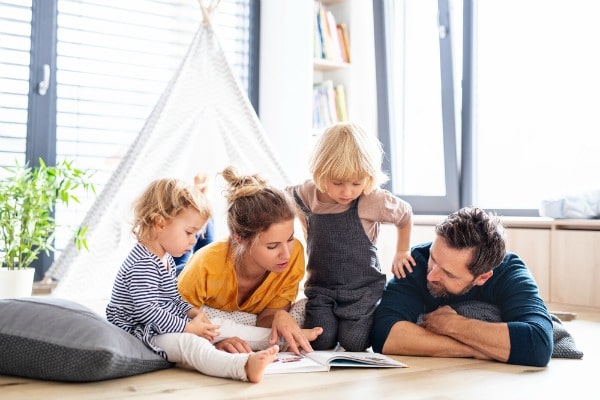 Kids Tent Camping-Themed Accessories
To keep your tent tidy, here are a few suggestions for how to store your toys or pillows.
Sanjiaofen Rectangular Canvas Storage Bin
Storl Organizer Storage Stool for Toys
Sanjiaofen Large Storage Bins, Collapsible
Woods Pillows and Round Woods Grain Stump
6 Pcs Round Throw Pillow Wood Slice
Camping Books for Kids
One fun thing to add to your indoor tent fun are books! Here's my top picks of camping books for kids to read. Plus you can use these indoor camping printable activities.
You can find more book suggestions in our summer reading book list.
Llama Llama Loves Camping by Anna Dewdney
The Camping Trip by Jennifer K. Mann
Curious George Goes Camping by H. A. Rey & Margret Rey
A Camping Spree with Mr. Magee by Chris Van Dusen
S Is for S'mores: A Camping Alphabet by Helen Foster James
Froggy Goes to Camp by Jonathan London
Fatima's Great Outdoors by Ambreen Tariq
Love You S'more by Melinda Lee Rathjen
Good Night Campsite by Adam Gamble & Mark Jasper
A Campfire Tail by Sarah Glenn Marsh
C Is for Camping by Greg Paprocki
When We Go Camping by Margriet Ruurs
Scaredy Squirrel Goes Camping by Melanie Watt
Our Great Big Backyard by Laura Bush and Jenna Bush Hager
Ruby's Sleepover by Kathryn White
The Three Little Pigs Go Camping by Tony Bradman
Amelia Bedelia Goes Camping by Peggy Parish
Biscuit Goes Camping by Alyssa Satin Capucilli
Pete the Cat Goes Camping by James Dean & Kimberly Dean
P.J. Funnybunny Camps Out By Marilyn Sadler
Daniel Goes Camping! by May Nakamura
Camping with the President by Ginger Wadsworth
Hello, World! Let's Go Camping by Jill McDonald
Nana the Great Goes Camping by Lisa Tawn Bergren
Just Me and My Dad (Little Critter) by Mercer Mayer
Maisy Goes Camping by Lucy Cousins
Brave Little Camper by Carmen Crowe
You can explore our book list of the best summer books for kids here.
This little adorable Fisher Price Toy Camping Set reminds me of our camping experience in St. Augustine, Florida. Have you ever gone on a camping trip?
Grab our camping theme muffin tin reading game. It's a fun little game to strengthen fine motor skills and develop phonemic awareness.
Pretend Campfire Toys for Kids
Of course, no campsite is complete without a campfire! Here are a few adorable ideas for pretend campfire toys for kids.
What Kids Can Learn from Playing in a Tent
Kids can learn a lot from playing in a tent. Here are some of the benefits:
Creativity and imagination. Playing in a tent can spark kids' creativity and imagination. They can pretend to be anything they want, from pirates to astronauts.
Problem-solving skills. Kids need to use their problem-solving skills to set up and take down a tent. They also need to think about how to keep the tent cool in the summer and warm in the winter.
Teamwork. If kids are playing in a tent with friends, they need to work together to set it up and take it down. They also need to share space and cooperate.
Self-reliance. Kids can learn to be more self-reliant when they play in a tent. They need to take care of themselves, such as by cooking their own meals and cleaning up after themselves.
Nature appreciation. Playing in a tent can help kids appreciate nature. They can see the stars at night and hear the sounds of the forest.
Adventure. Playing in a tent can be an adventure for kids. They can explore new places and have new experiences.
Hope you have tons of fun this summer setting up indoor tents with your child for hours of fun and learning.
Here are some fun and easy kids activities for your child to enjoy this summer…