Nursery Rhymes can be a popular theme for hosting a playdate with friends. You can even plan a special nursery rhyme event with your child's preschool or host your own Tot School .
Here are 10 Fun ways to get creative with your favorite nursery rhyme.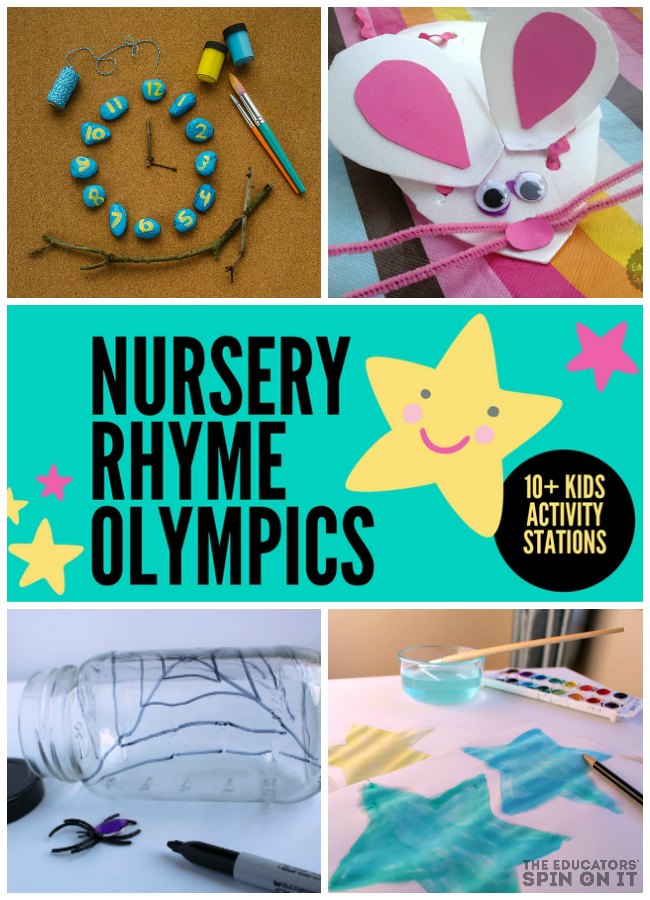 This week's theme for the Weekly Virtual Book Club for Kids in Nursery Rhymes. Do you have a favorite Rhyme?
This post contains affiliate links to Amazon.
This Nursery Rhyme Book Set below is one of my favorites to have around the house. I pull them whenever we have little ones visiting our house too. Nursery Rhymes are something very familiar to small children and help them feel comfortable in new environments. They would be perfect to set out for our Nursery Rhyme Olympic Stations too!
Are you ready to see how I set up the Nursery Rhyme Olympics up for our guests for Tot School?
Nursery Rhyme Book Set For Children in a Box Set (Set of 6 Books) 
8 Nursery Rhyme Activity Stations for Kids
One of my favorite things to teach preschoolers and Kindergarten students is about Nursery Rhymes. Many of them already have memorized them from their childhood but at this age they begin to understand how text is and they now think they can read the whole nursery rhyme all by themselves. It' quite adorable! Plus it reading nursery rhymes really does help them learn to read and understanding rhyming words.
I've put together 8 of our favorite nursery rhymes with coordinating activities to go along with them. You could do them on your own this week or you could invite friends over to rotate around to each station.
Host a Nursery Rhyme Tot School Playdate with friends!
You could even offer to help organize a Nursery Rhyme Olympic Day at school with your child's teacher. Most of these activities are designed for outdoor play and water play so they'd be perfect for a water day with friends or your class.
The Itsy Bitsy Spider Activity
Spider Web Balancing. Can you build a spider web? Using sidewalk chalk create a spider web on the ground. To play the game challenge your child to walk around the web on the lines. A great way to practice balancing, so don't fall off the web!
Create your own lunchtime Spider Snack with your child and friends by making Spider Ball Meatballs!
Make Your Own Spider Sensory Bottle
The Itsy Bitsy Spider
by Iza Trapani
Little Miss Muffet Activity
Surprise your little guest with a Moving Spider like this one that we made or pull out your Halloween decoration, I get you have a big spider.
Spider Crawl! Can you climb on your hands and legs in the spider crawl position with your tummy up from the Tuffet to Little Miss Muffet? Children race to see who can get their the fastest.
Twinkle Twinkle Little Star Activity
Create a special shiny Star Banner inspired by Twinkle Twinkle Little Star
Star Toss. Cut our Star Shaped Sponges and have your child pick them up from a bucket filled with water and toss them into a large bucket.  A great way to practice those gross motor skills and eye hand coordination.
Hickory Dickory Dock Activity
Create a Rock Clock to work on learning how to tell time!
Mouse Race Put on your Mouse Headband and see how fast you can race around the clock. Make a clock out of a large box.
Number Fun. See how fast you can put the numbers in order on the face of a clock!
Build your own Box Clock with boxes and roll a dice to see how many times you need to run around the tall box clock!
Create your own Number Mice for number fun with this printable.
Humpty Dumpty Activity
Create your own Egg Puzzle! Make a large paper egg and decorate with crayons, markers, water colors or stickers and then carefully cut it into to sections to create a puzzle.
Host your Own Egg Spoon Race .
I'm a Little Teapot
I'm a Little Teapot Activity
Teapot Race! How fast can you fill up your tea cup? Create a large scale tea cup using a bucket and host a water relay race with a plastic tea pot racing to fill it up as fast as you can.
Paint a Teapot. You can create your own paper tea pot with watercolors or you can even paint your own pottery tea pot.
Perhaps after the olympics you can host your own Tea Party with friends with this tea party ideas the kids can make.
Hey Diddle Diddle Activity
Grab a plastic dish and tape a spoon to it and race around the moon. We used this inflatable glow in the dark moon.
Cow Jump. Create your own cow headband to wear for this activity and lay down a large moon on the ground for a child to jump over!
Nursery Rhymes (Kate Toms Series)
Little Bo Peep Activity
Find the Sheep. Create several sheep to make a scavenger hunt for your child. Hide them around the area and challenge them to find them. You could add a little bonnet to make the game match Little Bo Peer in the story.
Cottonball Sheep. Using cottonballs and a sheep outline have your child make their own sheet to go with the story.
Rain Rainy Go Away Activity
You can start off with this Let's Make Rain Pre-Writing Activity .
Play the Game Drip Drip Drop with your child and friends.
Using watercolors, painting a few sheets of paper and then cut out raindrop shapes to create a rain drop mobile to hand the nursery rhyme from.
One of my favorite things that I used Teaching in my Kindergarten classroom where these Nursery Rhymes Posters . I've now brought them home and they sit on our easel where the kids can look at them and read through. I looked and saw that they are still available on Amazon. So worth the price of $12, you can use again and again and perhaps use as your set up a Tot School with your friends or gift to your child's preschool.

Carson Dellosa Nursery Rhymes Posters
Join our Nursery Rhyme Challenge for Kids
You're invited to join my 10 Day Nursery Rhyme Challenge with your child.  I'll be sending you one activity each day to your inbox. Creative ideas that you can use to work on beginning reading and math skills.  Plus I'll sneak in some fine motor and gross motor skills to get them moving and having fun at the same time. Each will be inspired by one of your favorite Mother Goose Rhyme!  Will you join us? 
Sign up here! The best part is it's FREE!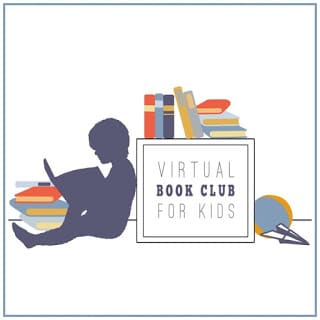 NURSERY RHYME THEMED ACTIVITIES FROM OUR CO-HOSTS!
Mary Had a Little Lamb Alphabet Puzzles – Sea of Knowledge
Five Little Ducks Counting and Story Retelling Activity – To Be A Kid Again
Hickory Dickory Dock Clock Play- Teach Beside Me
Humpty Dumpty Egg Sensory Bin – My Storytime Corner
Rainstorm Art Project (Rain, Rain Go Away) – Preschool Powol Packets
I'm A Little Teapot Pour Painting- Toddler Approved
Itsy Bitsy Spider Printable Book -Growing Book by Book
Three Little Pigs Fine Motor Craft – Views From a Step Stool
5 Little Ducks – Mama Smiles
Nursery Rhyme Olympics – The Educators' Spin On It { That's here! }
Little Jack Horner Paper Plate Pie Craft – JDaniel4's Moms
For more book inspired activities like this all year long. Be sure to sign up for our Book Newsletter