Play is a great way for children to begin learning about the world.  Incorporating global learning provides children with an early introduction to other cultures.  Print and use these pretend play printables for global learning in your home or classroom.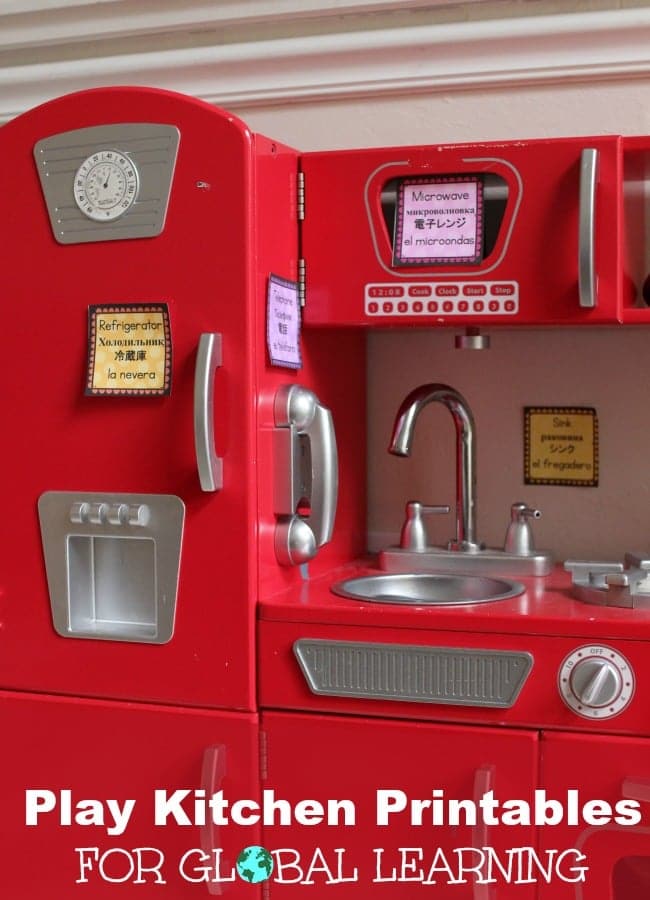 If you have found us through the online Summit on Raising Global Citizens in the Home – WELCOME!  We have many additional resources for helping you to incorporate learning language and culture during your every day play. From chalking famous buildings on your driveway to making empanadas, we are passionate about raising global citizens.
Affiliate links to products
Pretend Play Printables for Global Learning
Let's get kids excited about the world! Here are some Pretend Play Printables for Global Learning and ideas for bringing more culture and language into your child's every day play.

Here are 3 ideas for bringing more global learning into your pretend play kitchens.
Labels and menus
Books and cookbooks
Plates, dishes and pretend food
Materials Needed
Pretend play printables for global learning
Laminator or clear pocket folders
Dry erase marker
Eraser
Cookbooks and from around the world
Plates, dishes or pretend food from different cultures.
Labels and Menus for Your Pretend play
In just a few minutes you can bring language and global learning to your pretend kitchen with just 6 little labels.  As a former kindergarten teacher, the use of environmental print, or words to label everyday objects in your child's life is one way to bring in the written language to your home and classroom.  Having these labels in another language adds in global learning.
Print the labels on cardstock and laminate for longer use. You can cover each label with a clear packing tape on the labels if lamination is not available. This is an old teacher trick for making small paper labels and flash cards last longer.
Show your child the label. Talk about the words on each.
Attach the pretend kitchen labels with tape or adhesive to your pretend kitchen. The stove label should be ON or as close to the stove as possible.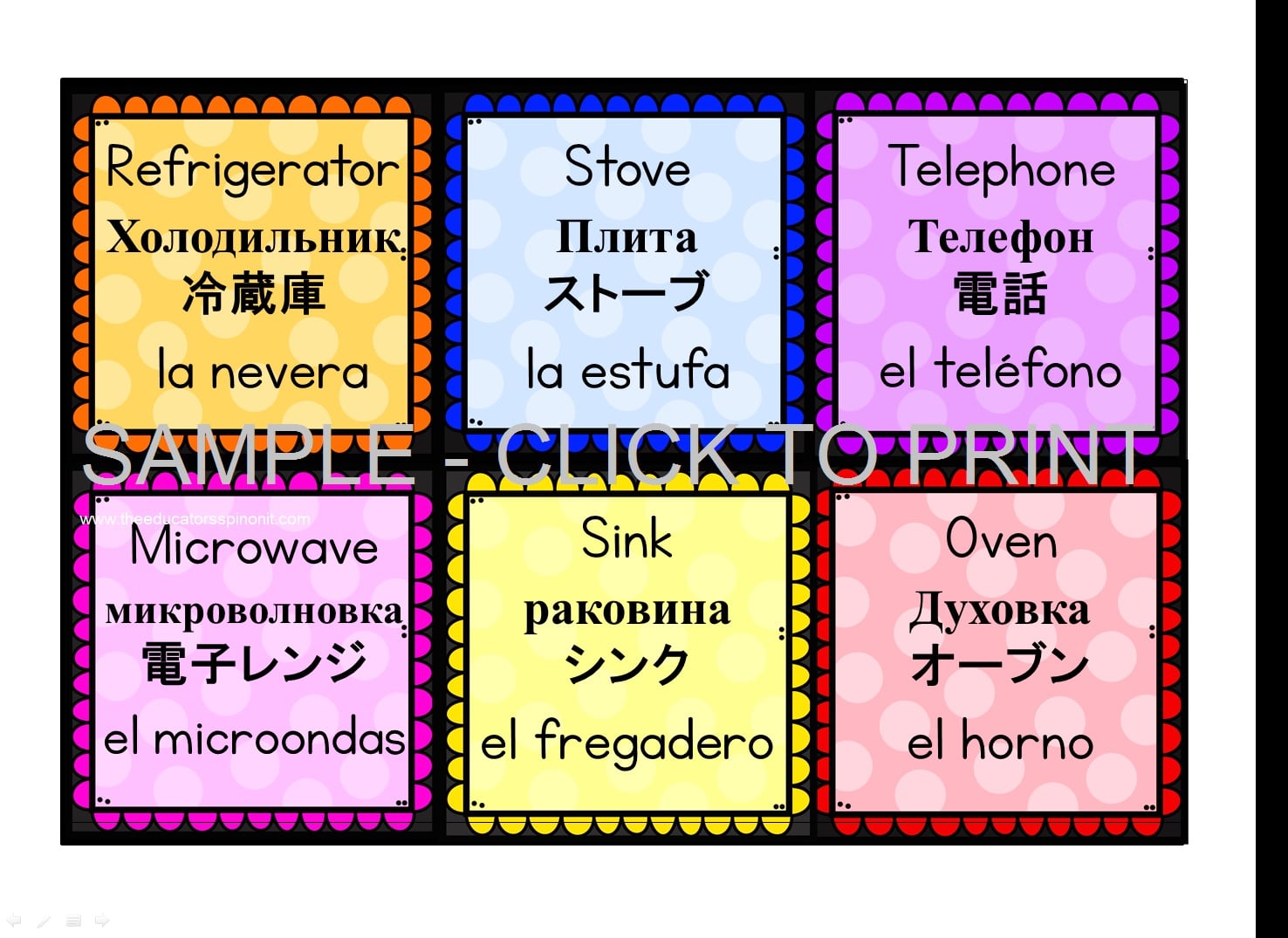 Books and Cookbooks
Adding in books and cookbooks from around the world is an authentic way to bring more global learning into play. It also brings in literacy and more language into your child's every day.

I like to add a few cookbooks with LOTS of great pictures in my pretend kitchen.  We store them in the cupboard or underneath so the kids can easily grab a book, flip to a recipe, and pretend to cook with it.
Look for world recipe books at used book stores.  Try to find books with more images than words and from a variety of cultures. As with toys, I rotate my cookbooks in the pretend kitchen every month.  This keeps kids excited about using the books.

Some Books to consider:
Recipes from My Russian Grandmother's Kitchen: Discover the rich and varied character of Russian cuisine in 60 traditional dishes

Russian Cuisine: Traditional and Contemporary Home Cooking

Harumi's Japanese Cooking: More than 75 Authentic and Contemporary Recipes from Japan's Most Popular Cooking Expert

Japanese Cooking Made Simple: A Japanese Cookbook with Authentic Recipes for Ramen, Bento, Sushi & More

The Little Paris Kitchen: 120 Simple But Classic French Recipes

My Paris Kitchen: Recipes and Stories
Plates Dishes and Pretend Food from Different Cultures
I have found that changing up "big toys" such as the pretend kitchen bi-weekly or even every month creates newfound interest and allows children to extend their pretend play in new ways.  Brining in plates, dishes, and pretend food items from different cultures is a way to incorporate different cultures.
It is a simple, but very effective way of bringing global learning into playtime.
We have brought out tea cups and saucers from England for afternoon tea parties in the pretend kitchen.
Russian painted plates for serving pretend food provide a springboard for talking about Russia and finding it on the map.
A sushi slicing set of pretend food and this wok and stir fry set combined with First Book of Sushi is a great introduction to Asian cuisine.
Even hanging a festive Mexican paper banner brings in a little global learning to your child's pretend kitchen.
If you LOVE my world wall art in this video- I found it on Amazon here.
Using play to raise globally minded kids discussion questions for parents and teachers
Talk with your spouse or family about the following questions.
What 3 countries or languages would you like to have your child learn about?
Think about the space where your child plays in most often. What labels, books, or cultural items can you add to that space?
Using the places of languages from answer 1, how will you incorporate them into your child's every day play? Write down what you hope to do. Then go do this task!
Examples)
I will check out 3 books about ____ and set them in the play room.
I will print pictures of ______ buildings and tape them near the block area.
I will write print and hang labels for the items in our pretend play kitchen.