Gardening with kids is a ton of fun.  I can easily get overwhelmed in the seed and vegetable plant section at our local home improvement store. Ohhhh the choices of gardening!  I am so thankful that we do have choices, but it is hard to decide WHAT I want to plant and then I need to choose how to get THAT plant in the garden.  So when do you use seeds vs transplants?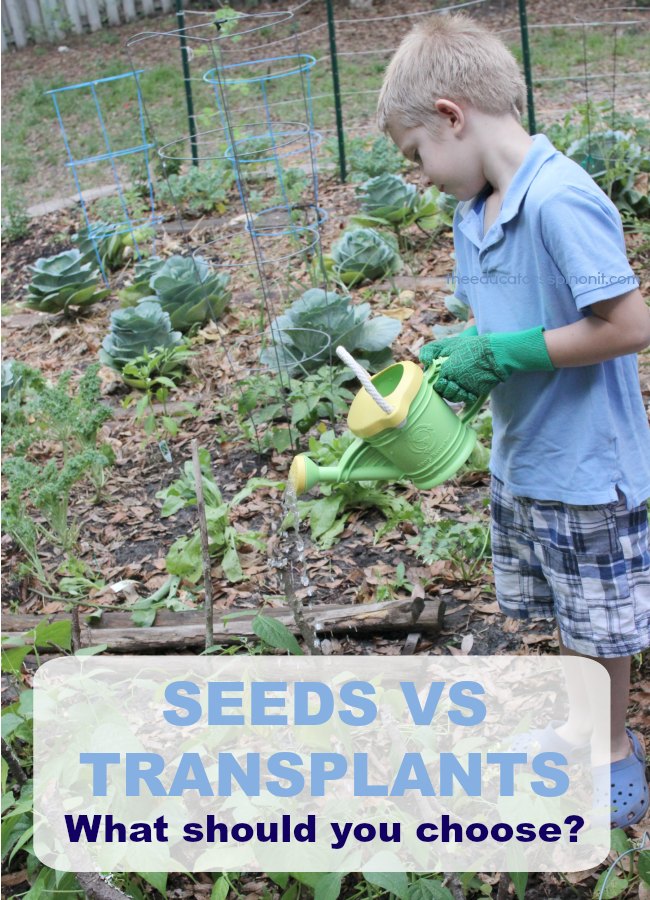 When do I use Seeds vs Transplants
It seems that I end up with a combination split almost equally between using my own seeds that I have saved, seeds I have bought, and transplants.
The benefits of using seeds when gardening with kids is tremendous.  The kids are able to put this tiny seed into the ground and see it emerge into an amazing plant that will feed them!  A life cycle is born and kids are sucked into this process and completely fascinated by it. The kindergartners planted bush bean seeds several weeks ago and have reported their growth in inches to me daily.
Why would you use Seeds vs Transplants?
When to use Seeds
They love the little flags that emerge from the ground.  It is SO amazing to see 18 –  5 year old's extremely excited about spending time out in the garden and observing their natural environment.  My words just cannot describe their joy! The virtue of patience is taught when you plant seeds. Costs are low and there are many varieties of plants to choose from when you consider seeds.
Amazing to watch the seeds sprout
low cost
many varieties to choose from
more organic and heirloom varieties available.
Good for plants with long root systems (carrots)
Best for plants that grow fast (radishes)
When to use Transplants
Transplants however come already started.  Kids appreciate the earlier harvest and seeing their garden look full. Some harder to grow vegetables like tomatoes and broccoli may be your best option.
When you are short on time
To see fast growth
To have something ready to harvest ASAP
As our school garden was gifted with some transplants, the children planted 3 different varieties of lettuce seed along side the transplants.  We discussed the similarities and differences between the seeds and the transplants. The students were able to come up with that they are both the same type of plant, but one has been growing for a longer time.  I buy seeds for the kids in bulk, so everyone will have opportunities to plant. Future lessons will include a comparison of different seeds and a comparison of different kids of lettuce. Affiliate links:
Save
Save