I'll be the first to admit that this has been so much fun venturing into the blogging world with one of my best friends, Amanda.  She is one of those friends that encourages you to become a better person, mom, wife, daughter and friend.  I think in part that is why we both have chosen to take on this new adventure in our lives. This blog was designed to help us and our followers become accountable for all the adventures we take and that our children take us on daily as we work on the art of being a stay at home Mom.  And hopefully we make it a little bit easier for you to make sure your little ones are learning all they need to know to prepare them for successful learning and a well balanced life. 
As the New Year approaches, I just wanted to take a moment to reflect on how you too can easily and creatively put your "Own Spin" on things as we have this year.  I can't wait to see what 2012 brings to our lives and into your homes.  
Here are my Favorite Picks from Amanda's Spin On  things in 2011.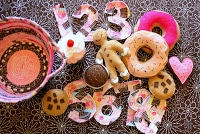 Handmade Gifts for Toddler
This was such an adorable gift that my little one received from Amanda for her 1st birthday.  She's been playing with them nonstop.  I can't wait to see her begin to count with them too.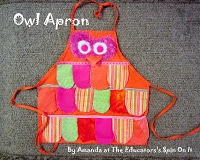 Owl Apron Tutorial
All I did was mention we're learning about Owls in Cooking class and her daughter shows up with an owl apron for class that she quickly created that day.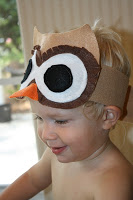 Owl Costume Tutorial
Playing dress up up is such a treasure of childhood and one that inspires so much creativity from your little ones.  Whoooo wouldn't want to be an owl? There's even made a You Tube sewing tutorial to make it super easy for you!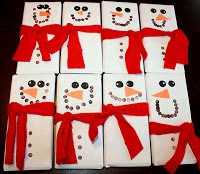 Snowman Candy Bar Treats 
Thinking of others is something we're always trying to teach our little ones.  Here's a great lesson in the art of giving and creating at the same time.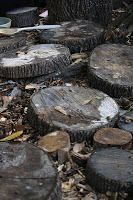 Outdoor Play 
What a great idea to create a cut an old tree into 1inch rounds to allow your children to create all sorts of ideas with in that backyard.  Woodfloors, jumping logs the ideas are endless! 
We've truly found how much we have in common this year by creating our Pinterest Account together.  We've found ourselves pinning the same things a multitude of times, it's actually kind of funny how similiar we think at times.  If you haven't had a chance check out our Boards, here's the Link.  We have a multitude of boards created to help us and you with ideas.  We're always spinning our Ideas together and I've truly enjoyed seeing what Amanda finds on the world wide web and how she "Spins It" into her own ideas and usually very eco and economically friendly!  On top of it she has made some helpful videos on our youtube channel.  Check our our Educators' Spin On It Channel!  One of my goals this new year is to get more ideas on there for our followers.    
Amanda has been inspiring me to work with my little Bilingual Babies, to get outside and start Gardening with Children  and to create Natural Playscapes  in my yard.  I can't wait to get my littlest one started on some of your Tot School Ideas now that she's One.  Most importantly she's inspiring me to create a Print Rich home by Building Literacy with my children on a daily basis by setting up a great foundation.  I can't wait to see the books you are getting ready to publish and make available to our followers! 
Thanks Amanda for putting your "Spin On Things" and inspiring me to teach my little ones!  Hope you all get a chance to check out all the links I provided to some of her adorable and helpful ideas for your little ones!