Let your child's back-to-school photo stand out from the crowd. Spice up the generic stand and smile on your first day of school photos. Add a little pzazz and make back-to-school photos a bit more exciting with some back to school photo props.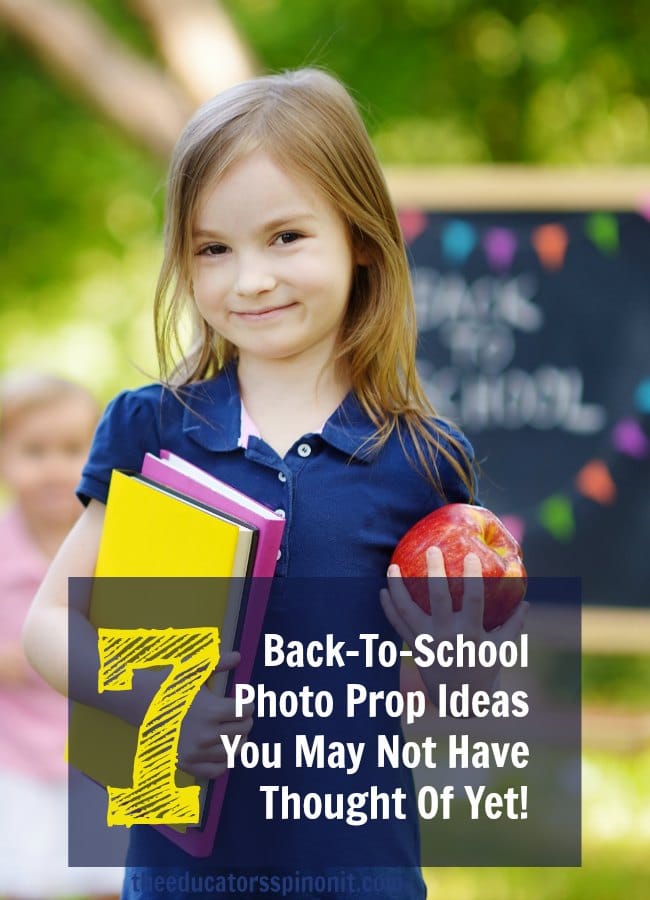 It's easy to create a prop for back to school photo. In fact, most of the back to school photo prop listed here can be created with paper, your own supplies and a few accessories you have laying around the house. The dollar store or Amazon is also a great place for Back To School Photo Prop Ideas.
Disclosure: Amazon Affiliate links used in this article.
Back To School Photo Prop Ideas
Apples and Books
Yes, these are such simple school props – but always add a pop of color and give your kids something to hold. Let them choose a few favorite books in one hand and an apple in another. Throw a chalkboard in the back (see #7 to add depth to the picture) Make sure to have your child 7-10 feet in front of the chalkboard to get the fuzzy / out-of-focus background. Some cameras (including cell phones) cannot get this look. It depends on the lens you are using.
Perfect Little Scholar
Download a picture of an A grade from your clip art files together with photos showing the different subjects such as Math, History, English, and Science. Stick the A grade on a cardboard "stick" and do the same for the subjects but on a different stick. When you get to school, have your kid hold the two sticks and take pictures around the school.
Ruler and Pencil Prop
This one is really simple. You set the prop using the back to school supplies you purchased. Get the ruler and pencil out and have your kid sit on a chair in the class. Have your child try different poses while holding the pencil and ruler. Throw in some sunglasses to spice up the pictures. You can even take the picture in different parts of the school.
OR – Make a giant pencil out of yellow and pink tag board. Write the year in the middle of the giant pencil and have your child hold it.
Class Year Print Out
If you have a printer at home, you can print out the year and stick it on a piece of cardboard. When you get to school, have your child hold the cardboard with the class year and take pictures at home or around the school. Have your kid try out different poses to make the pictures really unique. OR Grab them on Amazon.
Click here for How to Make Your Own First Day of School Sign.
T-Shirt Labels
We've seen them for baby onesies – why not make a set for grade school! It will surely make remembering what year of school your child is in easy 10 years from now – Just look at the shirt label.
First Lunch at School
Use your lunch box as a prop for the first back to school pictures. I know people say it goes by so fast, but soon, your child won't want the character or bright-colored lunchboxes. This back to school photo prop works best if your child is involved in selecting their lunchbox. You can try out different poses to make the pictures fun.
Blackboard Writing
Use a giant blackboard and chalkboard markers. Write down the important dates, interests, and people in your child's life.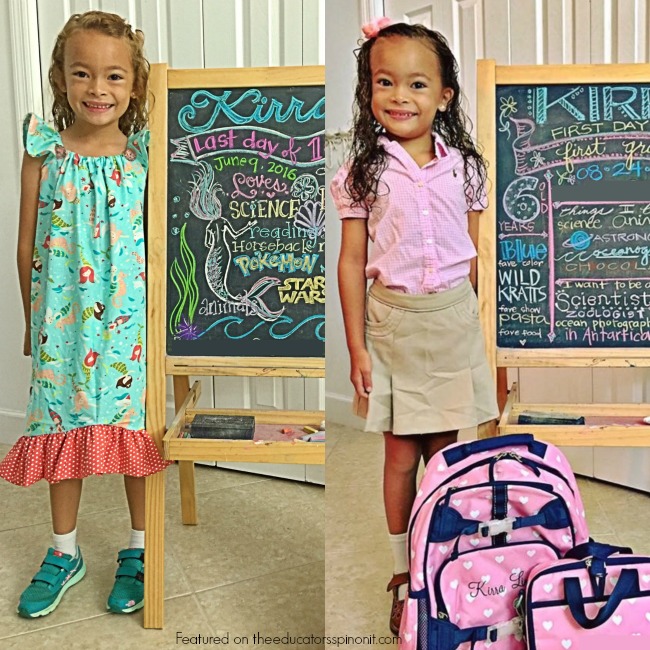 Photo credit Lin
These are just a few ideas, you may have others you want to try out. Please feel free to be creative with your props!
More Back to School Resources from The Educators' Spin On It
You may also enjoy these back to school resources…
Save
Save