Each week we love featuring the top activities for School Ages in our After School Linky Party. It's official, many of us are back in school or will start next week, are you ready?
Here's a fun way to plan for After School Fun with our top most clicked activities from the After School Party this summer.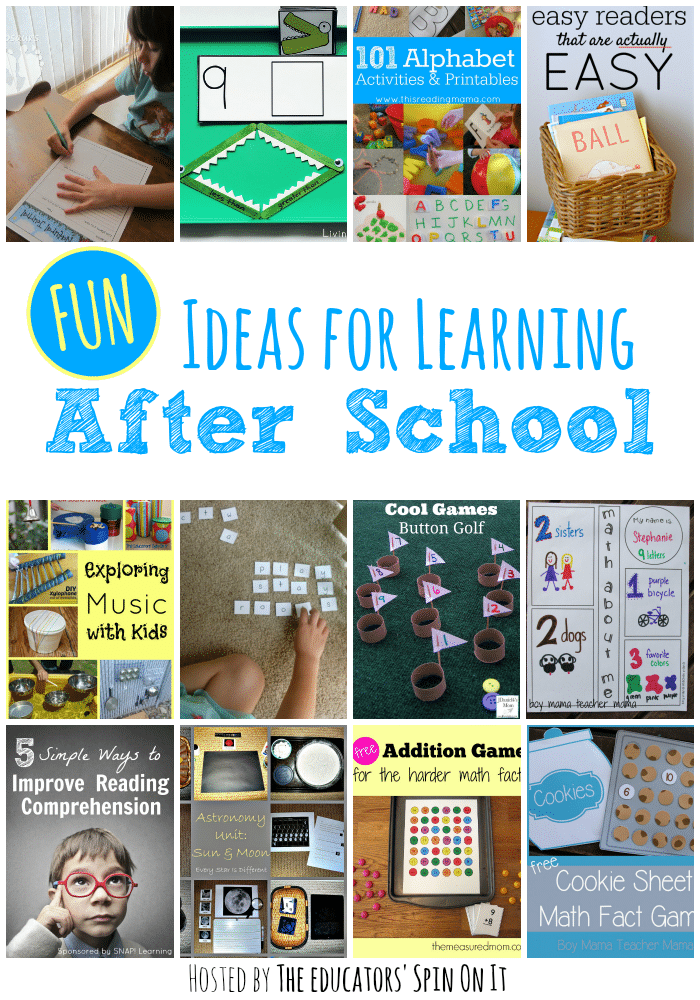 We were thrilled each week this summer we had bloggers come and share their activities for kids as part of our #smartsummer party through the After School Party. We'd love to continue with you throughout the school year sharing ways to bring learning into your home.
We use the hashtag #learningafterschool to share fun ideas each week to help give you ideas for what to do with your child at home. You can plan out your week with your own Lesson Plan, click here to print.
Here's a great way to kick of your After School Activities with the top most viewed post from this summer.
Literacy Activities for After School
101 Alphabet Activities by This Reading Mama 
Easy Reader Books by What Do We Do All Day;
5 Ways to Improve Reading Comprehension by This Reading Mama
Spelling Word Race by A Mom with a Lesson Plan
Math Activities for After School
Math About Me by Boy Mama Teacher Mama 
Cookie Sheet Math Fact Game by Boy Mama Teacher Mama
Button Golf Game by JDaniel4's Mom 
Greater Than Less Than Alligator Math by Living Montessori Now 
Science Activities for After School
Nature Journal by 3 Dinosaurs
Astronomy Unit: Sun and Moon by Every Star is Different
Performing Arts Activities
Fine Motor Skills for Big Kids by Planet Smarty Pants
Exploring Music with Kids by The Educators' Spin On It
Top Art Resources for Kids by The Educators' Spin On It

*The images to these activities are featured in the above collage.*
After School Schedule
Create your Own After School Schedule that focuses on the subject levels your child needs to focus on the most and also what you want your child to discover too.