You're invited to join our Weekly Virtual Book Club for Kids. We're excited to be sharing with you weekly preschool books and activity ideas for the 2017-2018 school year. It's your own personal preschool lesson plan with books for you and your child for the school year. Are you ready to join along?
BIG NEWS!  We had so much fun hosting our first Weekly Virtual Book Club for Kids we're bringing it back again this year.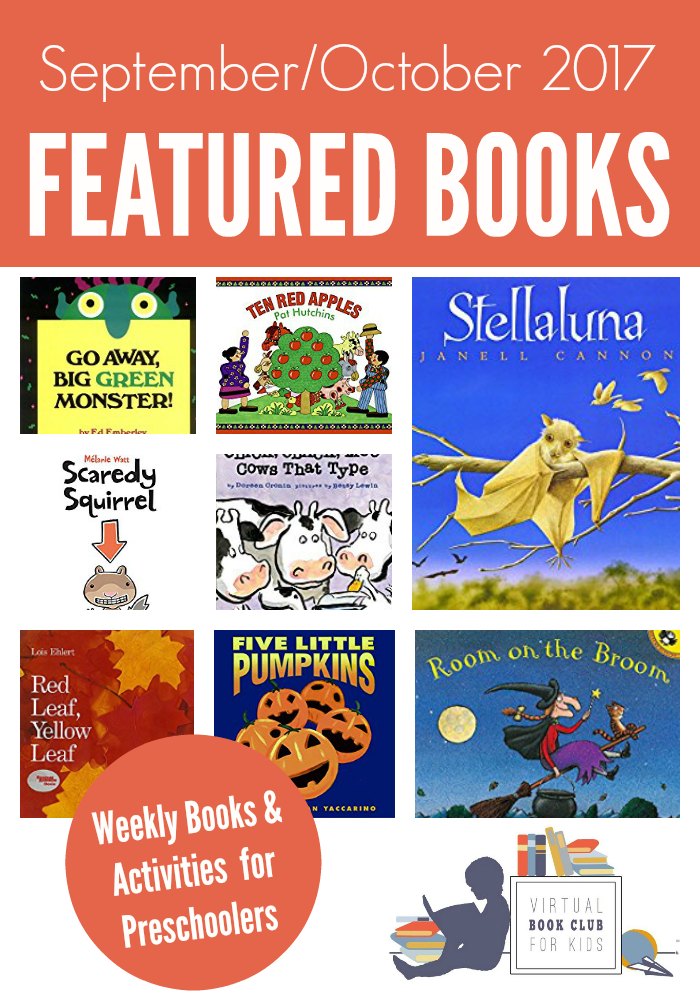 Disclosure: This post contains affiliate links to amazon for easy shopping online.
Join our Weekly Virtual Book Club for Kids
Since 2012 I've been cohosting the Virtual Book Club for Kids with my co-organizers Kristina from Toddler Approved and Cerys from Rainy Day Mum. This past year we went from monthly ideas to weekly ideas and we had so much fun we're doing it again. Plus we have so many talented VBC CoHosts sharing ideas along with us each week.  Click here to see what books and activities they shared last year!
Are you ready to see what themes and and books we've selected?

As moms and former teacher we've selected our favorite picture books to go along with popular preschool themes that your child will enjoy learning about. Think of these are you own personal preschool lesson plans for each week with your child.
A Special Preschool Book Club Group Just for You!
To add some accountability and give you support, we have created a Weekly Virtual Book Club for Kids Facebook Group where you can come and get activity ideas, get additional book recommendations, and share what you're up to with your kids! The group will be closed and ONLY members of the Facebook group can see what is posted in the group.

Do you think you can join us?
Click HERE to join our special Weekly Virtual Book Club for Kids Facebook Group: https://www.facebook.com/groups/weeklyVBCforkids/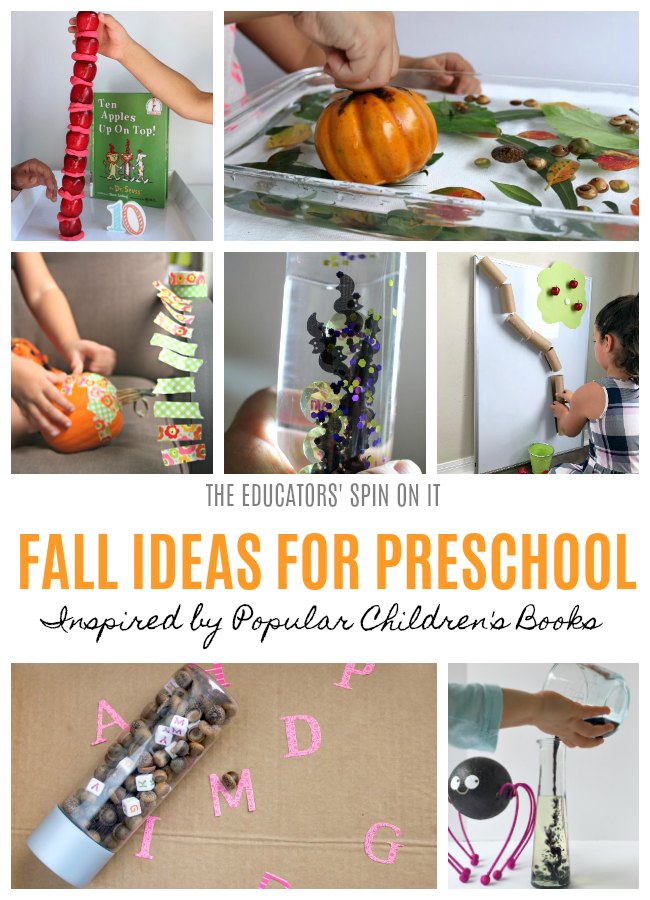 Preschool Books and Activity Ideas
Here are the books and the themes we'll be featuring for September and October.  We'll release the rest of the year's themes and books in our Facebook Group and to our Newsletter Subscribers.  Sign up so you can get prepared to join the fun each week!
Here's the Book List for November and December!
CLICK ON THE THEMES to see each featured activities to go along with the BOOK!
Sept 11- Theme: Apples
Book: Ten Red Apples by Pat Hutchins
Sept 18- Theme: Leaves
Book:Red Leaf, Yellow Leaf
by Lois Ehlert
Sept 25- Theme: Acorns & Squirrels
Book: Scaredy Squirrel
by Melanie Watt
Oct 2 – Theme: Farm
Book:Click, Clack, Moo: Cows That Type (A Click, Clack Book)
by Doreen Cronin
Oct 9- Theme Monsters
Book: Go Away, Big Green Monster!
by Ed Emberley
Oct 16- Theme Pumpkins
Book: Five Little Pumpkins  by Dan Yaccarino
Oct 23- Theme Witches and Potions
Book: Room on the Broom
by Julia Donaldson
Oct 30- Theme Bats
Book: Stellaluna
by Janell Cannon
Click here to get our books and themes for November and December

Participating in the Weekly Virtual Book Club for Kids
Each Monday during the 2017-2018 school year we'll be featuring a different children's book by a favorite author and we'll be sharing a themed activity related to the book. We are inviting YOU to not only read the featured book with your kids, but also try out a book related activity during the week and report back!
Our co-hosts will also share activities. You'll be able to find all of them in our Facebook Group each week.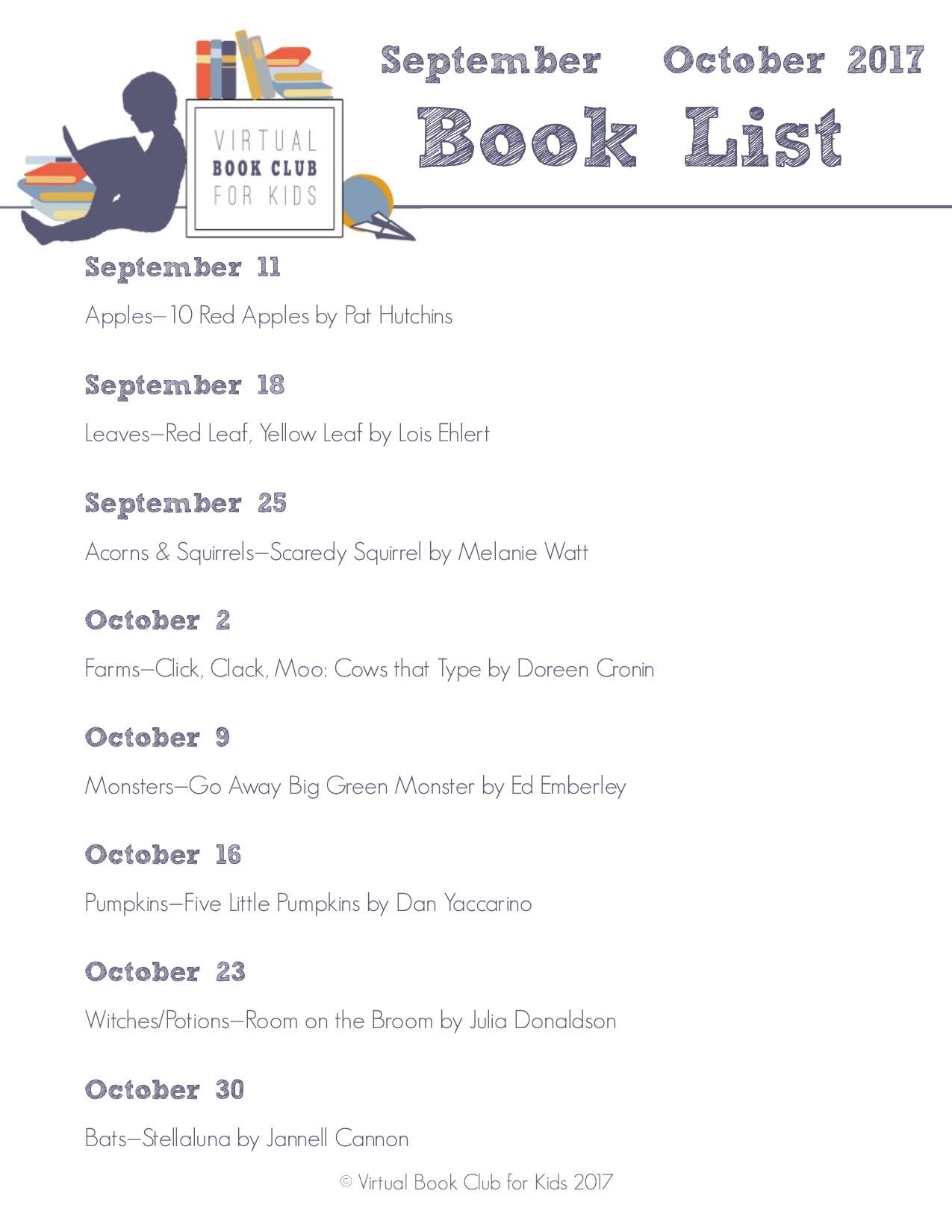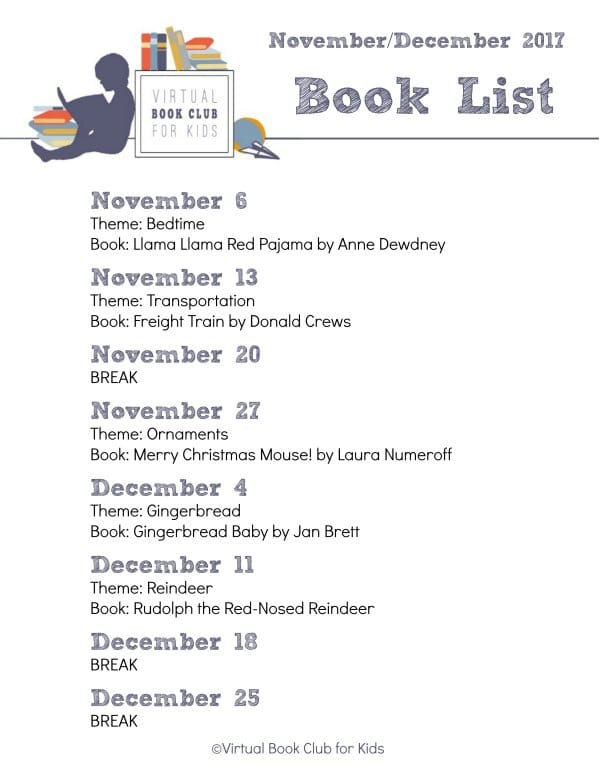 Weekly Preschool Lesson Plans from our Virtual Book Club
Each week our VBC Cohosts will be sharing activity ideas for your preschoolers on their websites and in our facebook group.  You can sign up to receive these activities in our Weekly Book Club Newsletter too!  The activities will focus on the early childhood developmental skills needed for success in school.
Alphabet
Names
Pre-Writing
Numbers
Shapes
Colors
Fine Motor
Gross Motor
Cooking
Science
Sensory

Everything you need to help your child get ready for Kindergarten and foster a love for books and learning! Let me know in the comments below if you're joining us! I can't wait to experience this with you and your child and get to know you more.  Happy READING!