"I participated in a campaign on behalf of Influence Central for the Juvenile Products Manufacturers Association. I received a promotional item as a thank you for participating. #BSZParent, #sponsored #IC"
Where do you find support for parenting?  Who helps to guide your decisions on what products to buy? When to start feeding your baby solid foods? How to safely give your baby a bath? 
This article will provide you with a variety of options that parents use for parenting support.  It is part of our Best Parenting Advice Series for New Moms.
Sure, lots of people say not to worry about being a mom, your instincts will kick in.  You will know what to do when the time arrives is AWESOME advice. In fact, it is the number one advice that our community of Mom's gives.
BUT, there are times when it is NICE to have somewhere to turn to for support and advice. So where do experienced parents turn to for parenting support and advice?
Finding In-Person Parenting Support.
Family:
One of the best forms of support can come from family members.  It may be your own parent or spouse.  Ask them what they think and listen to their responses.  Remember not to get too defensive if they have a completely different idea then you do.  Ask them why they think that way or to give you examples of how it worked.  Even when ideas differ, listening to family members ideas may provide you with support or alternative approaches to consider.
"While you're filtering out the uphelpful comments, make sure you absorb the helpful ones. Don't just absorb them – let them lift you up! I had the never ending support of my mother and my husband, plus some other friends and family members, who stood by me, helping me out. My mother celebrated every milestone – whether it was a breastfeed a day, or completely weaning him from the nipple shield." – Moms and Crafters
Local Mom Groups:
Finding support of other parents in your community can also be a great resource to new moms. Parents who have children close in age to yours may also be asking the same questions. It can be nice having someone who understands your joys and challenges and to discuss age related issues with.  
"Find a parent with kids a little bit older than yours with a similar parenting style. Whenever you're stuck on what to do, call that parent. I did that when my children were young and it's been one of the best things I did." – 
Adventures in Mommydom
We are often asked – where do you find these groups? Meetup.com, MOPS, churches, local newspapers, and even the hospital or birth center may advertise meetings for new parents. Try it out for a few times to see if it is the right group for you.
If these organizations don't work for you – head to the park or library.  Play with your baby and look around for other parents doing the same. Introduce yourself and start a conversation.  If you "click" set up another time to meet in the future.
Your Pediatrician:
I really struggled to find a pediatrician who I liked, trusted, shared parenting philosophies with, that was close to my home, and that my health insurance had the best coverage with. Once I found that office, they are now a great in-person source of support.  I ask them questions during office wellness visits and call too.
Your own doctor can also be a source of information and support.
"Don't feel like a bad mom if you have to ask for help for yourself. PPD is nothing to be ashamed about even if it's a mild case. Trust your gut." – Roslyn



Online Support for Social and Emotional Well Being
Groups such as Baby Center often will have online parenting groups to discuss everything from diapering to breastfeeding.  These sites may be a great way for sleep deprived parents connect with others from the comfort of their home. Take the conversations with a grain of salt.  Many parents are experienced, but the advice they give may not always be the safest or best for your child.
Support for Choosing Quality, Safe and Functional Baby Products.
"Don't buy things just because "everyone" buys them. Research and decide for yourself. The same goes for items that "everyone" poo-poos. People always seem to bad-mouth wipe warmers as a waste of money…after 4 years, we STILL use ours!!! I will always be glad I decided for myself." – Diane #Dianerocks

I was recently asked if I knew of JPMA Certification.
I hadn't.  Which makes me feel like I have my head in the sand, as the organization has been around since 1962, testing and inspecting products for durability and safety.
JMPA is an organization that has developed a comprehensive certification program to determine if a product has complied with ASTM requirements.
Their goal is to provide consumers, parents and care-givers, with safety information about products so that they are able to make informed and thoughtful decisions about what they buy for their infants and young children.
The manufacture submits each product model on the market for review.  An independent laboratory then tests the products. The product only receives certification if it meets ASTM Standards, Federal Laws, State Laws, and Retailers Requirements.
Products that meet these criteria receive a JMPA Certification Seal.  Manufactures annually test their products to maintain this certification.
That means, while at the store, look for the JPMA Certification label on the product to know that the products you are choosing for your baby have met rigorous safety standards.
Head over to the 
JPMA's Baby Safety Zone website for even more information.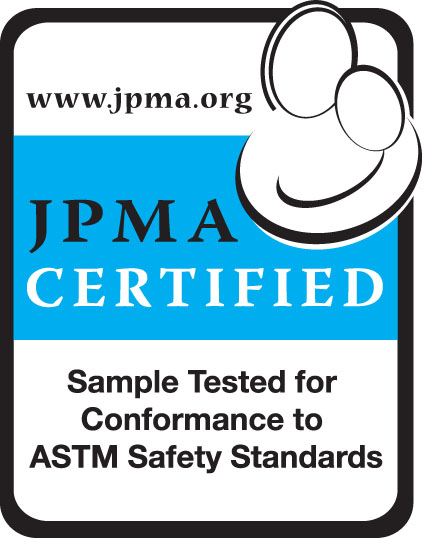 JMPA has downloadable product guides for purchasing safe high chairs and booster seats, strollers, and baby gates.  See if the products on your wish list made the cut for being a safe and functional baby product.  
Click for Buyers Guides
.  
They also have
safety videos
for parents on topic including:
Bath Tub & Bath Seat Safety Tips
The #1 Best Advice for All New Parents
How to Find Parenting Support
The Best Parenting Books to Read
How to Survive Life with a New Baby
Parenting Tips for Raising Your Baby
Tips for Returning to Work after Baby